CLASS 13
In April, we enjoyed continuing our topic of Spring, focusing on flowers and nature, and learning all about Easter. We finished off our ceramic flowers for the sensory garden and took part in the whole school "showstopper bake-off challenge" making yummy treats for our In The Town theme. We've continued to build on our self-help and independence skills, working on tasks like wiping down the tables after meal times.
In March we continued with our colour topic and enjoyed learning about colours through activities like art, Attention Autism and TacPac. We had lots of fun and made lots of mess experimenting with paint to make different colours. We also started to explore spring and looked at minibeasts and spring weather. It was great to get some sunny days to get outside and play with the ball. We enjoyed going to the hall to make a ceramic flower with Mount Ida pottery for our sensory garden.
We finished our winter topic this month, exploring areas such as winter weather, arctic animals and fun in the snow. We enjoyed sensory art, TacPac and winter stories. We had fun around Valentine's Day, exploring the colours red, pink and purple through art and sensory trays and we enjoyed a Valentine's themed sensology.
It was great to get back to school after the Christmas break. We're continuing with our self-help skills, focusing on being as independent as possible and we're focusing on building our attention and engagement during our attention grabbing sessions. Our topic this term is 'Seasons and Colours' and this month we've enjoyed learning all about Winter. We've been completing winter crafts, reading winter themed stories and going out on winter sensory walks. We've also been exploring colour. In art we've been doing some experiments with winter colour mixing and we've enjoyed colour matching activities at our work station. We're looking forward to continuing this topic next month.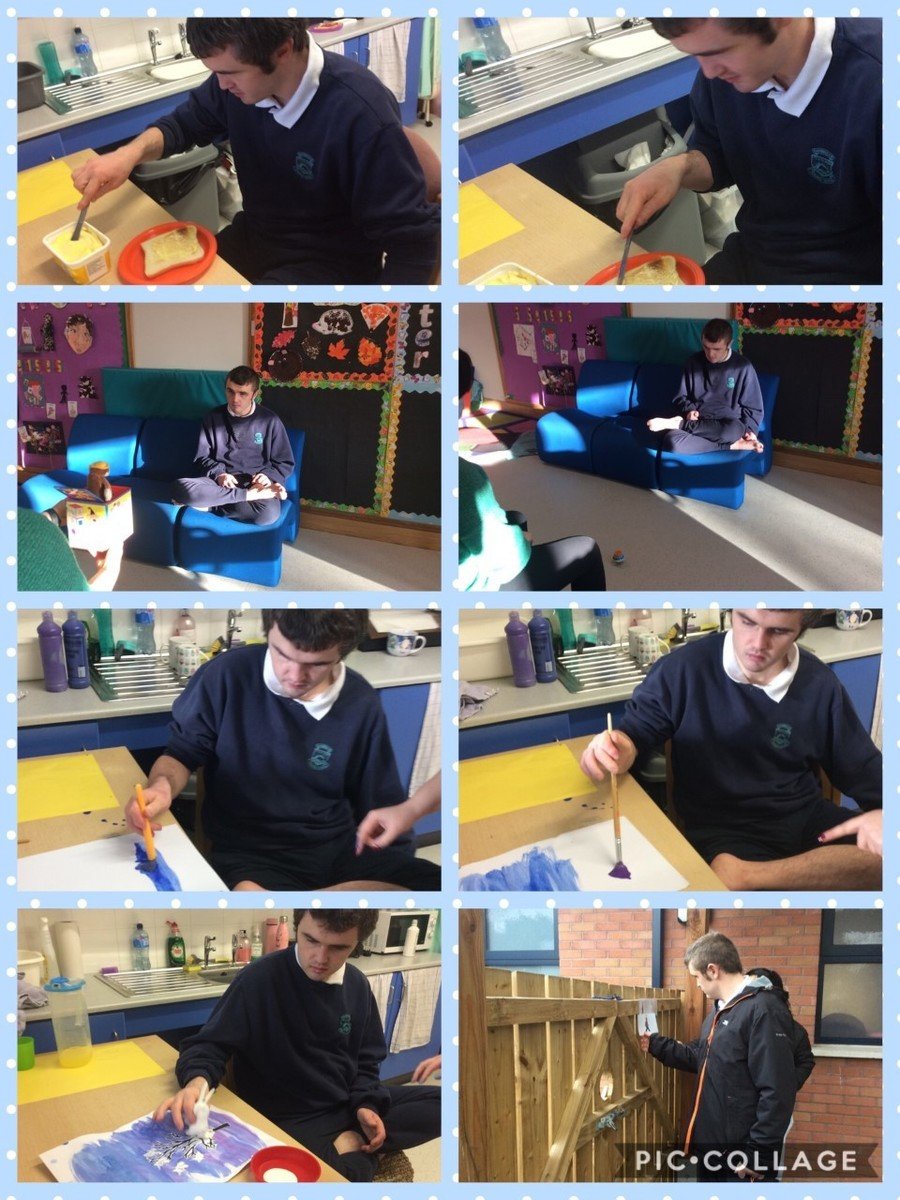 December was all about Christmas! In Class 13 we made lots of Christmas crafts, sang Christmas songs, enjoyed Christmas Tacpac and participated in the Daily Mile Santa Run. We continued to make our own snack each day and have started to make some choices about our favourite activities to do during relaxation.
In November we continued our topic of Autumn with themed stories like 'We're Going on a Bear Hunt' and 'The Gruffalo'. We also celebrated important dates like Children in Need and Anti-Bullying Week. Our focus during this week was 'One Kind Word' and class 13 looked at the word 'super', completing some fun sensory art. We worked on our self-help and independence skills, making our own snack and tidying up after ourselves.
Throughout the month of October we explored our topics of Autumn and Halloween. We worked on our turn taking skills and had lots of opportunity to make choices during our school day. We also had a big birthday celebration which was lots of fun with balloons, party food and cake.
September has been a busy month in class 13. We've spent time settling back in to our new classroom and getting used to new routines. We've been working really hard on our self-help skills and enjoyed lots of learning through sensory activities including sensory art, tacpac, sensory cookery and sensology. We're excited for the rest of the year.

CLASS 13 UPDATE - MAY 2021
CLASS 13 UPDATE - APRIL 2021
CLASS 13 UPDATE - MARCH 2021
CLASS 13 UPDATE - FEBRUARY 2021
Class 13 Update - January 2020
The pupils in class 13 don't even realise how much Maths, English and ICT they are learning—They just think they're having fun! This month they have learned how to time travel with 'Age Booth' app on the iPad. Many are making their own books about projects of their choice, they've planned and cooked themselves a healthy meal. They've even learned how to divide a packet of crackers evenly amongst the group – it's amazing how much they have learned just by doing things they lov